Yui
Kanji

ゆい

Characteristics

Race

Human

Gender

Female

Age

7

Hair Color

Black

Eye Color

Gray

Blood Type

AB+

Professional Status

Affiliation

Mage

Occupation

Mage

Personal Status

Status

Alive

Relative(s)

Magic

Magic

Sword Magic

Weapons

Sword
Yui is the Daughter of Kirito and Asuna.
Appearance
Yui is a small little girl with Black eyes and Gray Hair just like her father Kirito. She wears a pink long sleeved shirt. She wears a tan short pant and brown shoes.
Personality
Yui is a kind and gentle girl who always i nice to others and her parents. Yui has a bond with both her mother Asuna and her father Kirito she is so over jealous when people touch them she even once said "No one can hug papa but only me and mama". Yui doesn't always get serious in a fight despite she always runs behind one of her parents but she is soon learning to defend herself. Yui also likes spicy food like her father
History
When Yui was born her father and mother were happy as ever to have her Yui grew up to be a cheerful girl always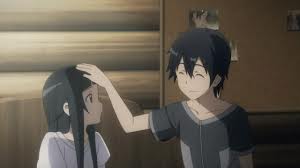 being with her parents and is mostly off adventuring with her father. Yui soon took after her parents learning how to use and sword and is starting to improve but Yui still doesn't know whether to pick
High Speed
from her mother or Black Magic from her father.
Magic and Abilities
Swordsmanship: Yu like her parents can use a sword and she is quite skilled for her age also being able to use sword magic as well.
Great Magical Power: Yui is said to wield Great Magic Power like her Father and Mother.